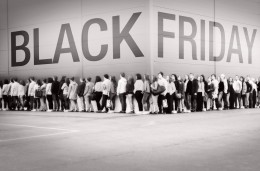 Thanksgiving (or, um, "Grey Thursday" as some people are calling it) is over, which means Black Friday is upon us. If you're hardcore enough to do the whole doorbuster thing you probably have already seen some crazy deals, and the money-saving gravy train is continuing online today.
The Apple Store has modest discounts on iOS hardware:
ThinkGeek is running a sale on their game controller devices:
Best Buy
Our sister site, MacRumors has tons of other sales on Mac hardware and software. Also, if you haven't yet, load up on gams at the Steam Sale. There's some crazy PC/Mac game deals to be had there. And, of course, there's still tons of sales on games on the App Store we already posted about that are still cookin'.