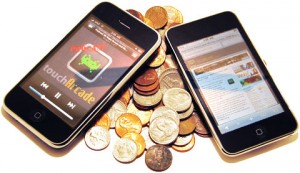 Hopefully everyone in the US is enjoying their Thanksgiving holiday, and made sure to grab a ton of games from the massive EA sale that we posted about earlier. Seriously EA, you guys are cray. Anyway, I'm peering into the future as I write this late on Thanksgiving Eve, and I picture myself laid out in a recliner, belt unbuckled, a small dribble of drool coming from the corner of my mouth as I stare blankly at the sportsball game on TV…
Ok, enough unpleasant visualizations, on to the good stuff – the sweet, sweet deals on iOS games.
In this post we look at what's on sale from Gameloft, Sega, Namco, Tin Man Games and Gamerizon (all of their Chop Chop games are currently free). Then below that we've got a huge catch-all for all the other deals we could spot, and if any significant new price drops hit during the next couple of days we'll just stick 'em down there at the bottom, so keep an eye on this space over the weekend. Or you could just skip ahead to the shameless self-promotion in the final paragraph and equip yourself with everything you need to stay on top of the tumultuous App Store. Empower yourself!

---
Gameloft
Sega
Namco
Gamerizon
Tin Man Games
Miscellaneous
---
As we like to warn readers with pretty much any big sales post, these prices are good as of the time of this writing, and the App Store has a tendency to change on a dime. Most of these sales should be good through the weekend, but if you see something you like it's probably best to double check the price in the App Store before you click that download button, just in case.
Also, I'd be remiss if I didn't give you some hot tips on how to keep track of the wacky price fluctuations in the App Store. First, make sure you're using our TouchArcade app (Free) which plugs you into everything TouchArcade while you're on the go. Next, head to AppShopper.com or grab the AppShopper app (Free) to get the latest App Store changes like updates and price drops. Finally, spend a lot of time hanging out in our Price Drops and Freebies forum, where oftentimes news of a price change hits before anywhere else. Best of all is that all these solutions are totally free to use. What a deal!