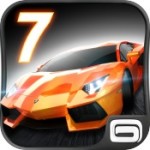 Gameloft's Asphalt series of racing games have come a long, long way since their humble beginnings on mobile phones, the ill-fated N-Gage, and Nintendo DS almost a decade ago. The latest in the series, Asphalt 7: Heat ($4.99), was released over the summer and was easily the most impressive iteration yet, offering a full-blown arcade racer wrapped up in an incredibly shiny package.
Currently you can grab Asphalt 7 for the very agreeable price of free. Now, the game has always been just 99¢ anyway, which is incredibly cheap for such a full-featured title. This probably has something to do with the amount of IAP in the game: there's a lot of it. It's not the bad kind though, just the kind that asks you to play a whole lot in order to earn enough in-game currency to buy all the various cars and upgrades. The "buy some IAP if you're impatient" kind, if you will.
Still, removing the barrier of entry will likely be a good way to get people to check out Asphalt 7 if they were on the fence before. I mean, why not? All you've got to lose is time, and admittedly it is a huge download at over 1GB. If you're a racing game fan then you'll definitely want to check it out, as although they're different in many ways, it compares favorably to EA's Need For Speed Most Wanted ($4.99), which came out just last month and also seems to be vying for the spot of "best iOS racer" in the minds of gamers.
You might need to hurry though, as according to the description Asphalt 7: Heat will only be free for a day.