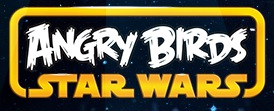 Ever since Rovio began teasing an Angry Birds tie-in with the Star Wars movie franchise earlier this month, we've been curious as to just what this holy mother of pop-culture phenomenon crossovers would entail.
Rovio eventually confirmed that Angry Birds Star Wars is a game that will be coming to iOS on November 8th, along with a landslide of branded products like toys, clothing, and I'm sure plenty of other crazy stuff. But they've been pretty quite on what the actual Angry Birds Star Wars game will be, though I'd imagine it will be based around the core mechanics of flinging things at other things that the other Angry Birds games are all about.
Rovio seems content to keep on teasing us, too, as over the past week they've released three more teaser trailers for Angry Birds Star Wars. In these, they've gone and inserted some pretty silly Angry Birds references into the actual footage from the films. And they're pretty funny, I have to admit. Check them out below in the order they've been released so far.
---
---
I'm liking these teasers and everything, but I'm anxious to see what the game itself will be like. My gut tells me it will be using the gravity slinging mechanic of the Angry Birds Space games in some capacity, since you know, space and Star Wars and all that. Perhaps a mixture of regular levels and "gravity" ones, or something.
Luckily with the way this year has already flown by, November 8th will be here in the blink of an eye, and we'll all be able to find out what's up with Angry Birds Star Wars then, and there's even more little tidbits floating around on the Angry Birds Tumblr page.