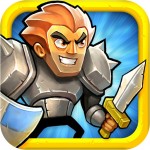 Robot Entertainment has announced on their blog today that a new Shaolin team will be making its way to their excellent turn-based strategy title Hero Academy.
In case you haven't been following along, Hero Academy released back in January, and though the initial offering was lacking in certain areas the strategic gameplay itself was what really won us over in our review. Since then Hero Academy has been expanded upon in a lot of ways, first getting a new Dwarves team in February, then going Universal in April, followed by another new team called the Tribes, and finally adding a special Team Fortress 2 team to the game in August.
With the new Shaolin team, players will once again be getting a group of characters with unique abilities that offer a new way to play the game. The biggest Shaolin-specific feature will be the ability to chain attacks together in a combo, with each chained attack increasing the damage dealt for as long as you keep it going. The Shaolin team will also come with a new field to play in which will be put in the normal rotation for all players whether you dish out for the new team or not. Finally, Shaolin specific avatars and challenges will be included as well.
Another interesting addition to coincide with the release of the Shaolin team is a thing Robot is calling the Challenge Collection. For a 99¢ in-app purchase you'll unlock the Challenge Collection which comes with 30 specially designed challenges that make use of a mixture of all the various teams in the game, which sounds like a pretty cool way to pass the time when you don't have any online matches going. Both the Shaolin team and the Challenge Collection will be hitting Hero Academy on iOS and Steam in November.