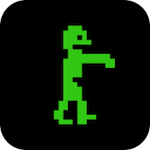 Back in August, developer The Men Who Wear Many Hats released a strikingly authentic riff on the classic edu-tainment title Oregon Trail with their zombie-infested iOS game Organ Trail ($2.99). We thought it was pretty darn fantastic in our review, but there were definitely a lot of minor bugs and issues that can be typical of an initial release. Despite the simplistic visuals, there were a lot of complex systems under the hood of Organ Trail, and bugs can easily slip by unnoticed until a game hits a wider audience.
Just a couple of weeks after release, a substantial maintenance update was issued which addressed a ton of those types of problems. It was a great step forward, but some issues still were cropping up as more people continued to pour their time into the game.
Today, The Hats have released a second Organ Trail update, and again it focuses on tons of little tweaks, bug fixes, and optimizations. If you check out the full update notes in the App Store description, you can see all the little nips and tucks the team has given the game. Nothing has ever been completely broken, and we've been enjoying the heck out of Organ Trail even with its minor issues, but it's nice all the same to see them continue to be addressed.
If you're waiting on an actual content update for Organ Trail, that's something that's in the cards as well, but as we've talked about before it somewhat hinges on how their PC version of the game does in the Steam Greenlight program. My gut tells me we'll be seeing new content for the iOS version either way, but we have yet to hear anything definitive.
Anyway, Organ Trail was great when it came out and is an even better, more solid experience thanks to these updates. Next on my wishlist: iPhone 5 and 5th gen iPod touch widescreen support. You hear me, you hat-wearing men? Make it so.