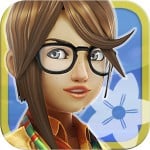 Last month one of the more pleasant surprises released to the App Store was Bitmonster's 3D adventure title Lili ($0.99). The gameplay itself was fairly simple, but was bolstered by a lush environment to explore, believable characters, and well-written dialogue that wasn't scared to take on some darker tones to tell a story.
We really liked Lili a lot in our review, though we did note some minor issues in the form of temperamental controls and various minor glitches with the game. Thankfully those were mostly knocked out in an update earlier this week, and Lili is a better overall game for it.
Now, as a way to celebrate the release of the 5th generation iPod touch, Lili has been put on sale for $1.99 from its normal price of $4.99.
You might remember that Lili was briefly demoed during the iPhone 5 unveiling last month, and was among the first to really take advantage of the wider screen. Now with a whole new set of wide screen iPod touches hitting the masses, Lili remains a great way to test out and show off your shiny new widescreen device.
Even if you aren't equipped with an iPhone 5 or 5th generation iPod touch, Lili is still a fantastic game that's definitely worth considering while it's on sale for more then half off, and you can visit our forums for even more information and discussion.