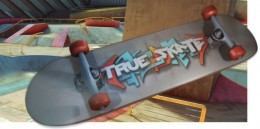 Late last week we took a look at a developer-made hands-on video for True Skate, the skateboarding game from True Axis that's been in development for the better part of this year, and the following day got our own hands dirty with it in a TA Plays video. Today I've gotten the good news that True Skate will be hitting the App Store on October 18th. Hey that's next week!
To celebrate the release date announcement, True Axis put together another demo video of the game being played on the new iPad. Here you can really see how your fingers become "virtual legs" that are responsible for performing all the tricks in True Skate. Check it out.
True Skate has been one of my main obsessions for the past week or so, and I just can't help but sneak in a session whenever I spot the game's icon while swiping through my iPhone home screens. I'm helpless against its power. I know it'll be instant gratification and instant fun as I get lost in experimenting with what's possible.
It's the kind of thing that's best experienced first-hand, so keep your eye on next week's batch of new releases when True Skate finally comes to the App Store as a $1.99 Universal app.