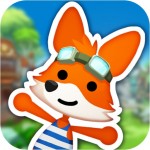 It was in early May that Godzi Lab began teasing their forthcoming iOS game following the successful launch of iBlast Moki 2 (Free) last August. The new game is called Happy Street, and it's a 2D town-building game with adorable visuals and a heavy Animal Crossing vibe.
Happy Street popped up in the Canadian App Store [Link] late last month as part of a limited beta release, and since the game is free to download people were free to try it out whether they were actual Canadians or just had an account for that App Store.
We went hands-on with Happy Street earlier this month, and really enjoyed the game in its current state. Finally, Godzi Lab has released a proper trailer for the game so you can get a glimpse at what it's like in action.
Typically, I'm not a huge fan of freemium city-building style games, barring Nimblebit's offerings. However, I've been playing Happy Street for the past several weeks, and I have to say I just love this darn thing.
Sure, it has the usual trappings of the genre, but it's too cute not to love and there's such a huge variety of things to do that I can't seem to stop making my street the happiest it can be. I'm also really impressed with how well the game guides you and makes sure there's always some goals outside of the building/leveling up/earning currency grind that's the basis of this type of game.
Whatever the secret sauce is in Happy Street, it's working, and I'm hoping that it's getting near the point of a worldwide release. Until that time comes, check out the Canadian beta via the link below if you are able, and join in on the discussion in our forums.
Canadian App Store Link: Happy Street, Free (Universal)