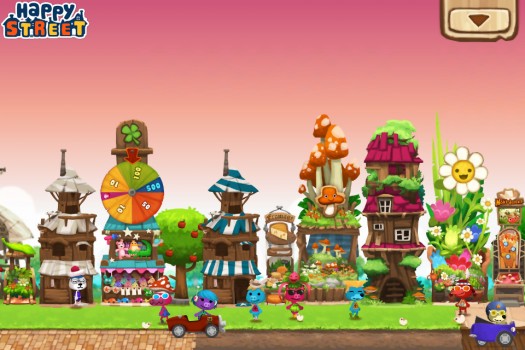 It wasn't that long ago that we brought you word that iBlast Moki ($2.99) developer Godzilab was making a game called Happy Street, but there weren't many details to go around. In the short months since then, Happy Street has been released on the Canadian App Store and Godzilab has been rebranded as Godzi Lab. Time sure flies, eh?
If you're Canadian or a "Canadian," you can check the game out yourself. It's free on the App Store. But if you're wondering whether it's worth the wait until it arrives for the rest of the world, it's safe to say that it is.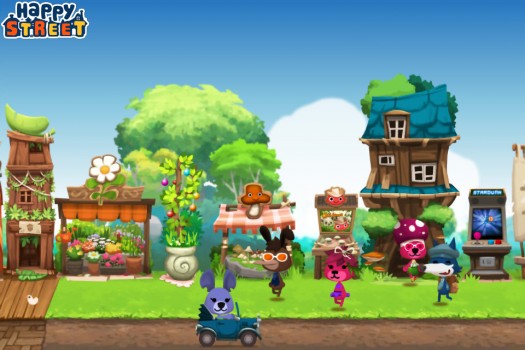 There's a little bit of Animal Crossing in Happy Street, but not as much as you might think. It has the aesthetic, and a lot of the charm, but it's missing some pretty key elements. In their place you'll find more than a few social and freemium bits, but they're not in the least bit soulless. Dropping some of the more insane checklists from the formula and adding in IAP? Let's call that a happy medium.
There's a lot to do in Happy Street, and I'm finding more each day. You build up your street, putting up adorable new buildings each time you level up and earn enough cash. You watch as sweet little critters move in and settle down. There are minigames and crafting trees. And you have to keep your villagers happy, whether that means making sure their homes are near the amenities they need or giving them the very best birthday presents to dress up in.
Absurdities also abound. Dressing up your villagers is fun; dropping bird, um, droppings on them is just as good. You can play slots with tokens you build from moonstones literally pulled from the moon. As you upgrade your buildings, you can also make them just a little more fantastic by pairing them up properly. A pirate flag, for instance, turns a fish market and a bazaar into a seaside market. You can practically smell the sea air.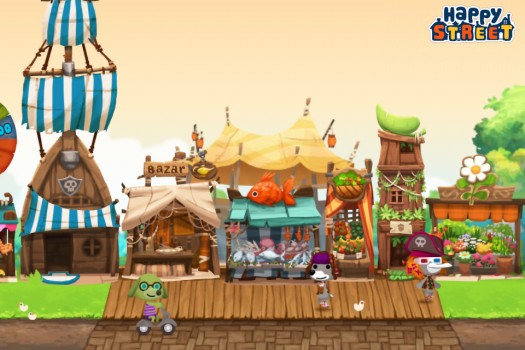 At its core, Happy Street is like a lot of other freemium building sims. You start something going and pop back in a few hours later when its done. You need to restock buildings every so often or you stop earning money. We've seen it all before. But while you're restocking you can start on a quest to craft something amazing, or take a spin on the Wheel of Fortune or fish up a few tasty treats—mostly without locking yourself into any sort of jarring mini-game mode.
Godzi Lab is still hard at work on improvements, so even if you've hopped on the Canadian beta you haven't seen the final product. We're particularly looking forward to some upcoming social features. Right now you can pop into your friends streets once a day to restock a few things and earn a Flooz or two, one of the game's premium currencies. But soon, you should be able to build a hostel to host some of your friends villagers, and maybe trade crafted items and resources. That should help make the crafting quests a little more strategic.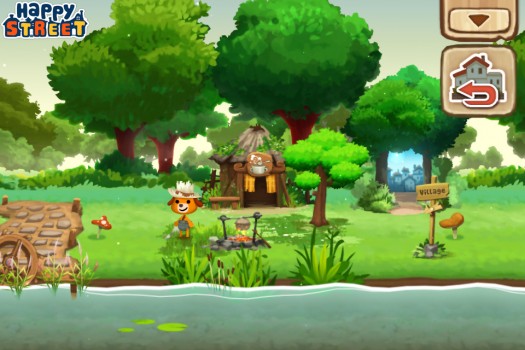 Happy Street is certainly shaping up to be well worth the wait. We'll keep an eye on it, and we'll let you know when it hits the App Store at large. Or you could skip the queue—we're all Canadian at heart, right?
Canadian App Store Link: Happy Street, Free