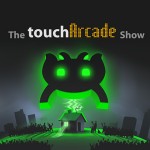 On this week's wildly off-topic episode of The TouchArcade show, we dig into weight loss and buffalo wings. When we do get around to the latest, hottest, and best in iOS, we do it hard. At the top, we discuss Be-Rad Entertainment's WarGames: WOPR. Later, Eli tells us all about Crabs and Penguins, while Jared gives us his take on Unstoppable Fists. In our news section, we cover a smattering of topics, including the reveal of Horn, Temple Run as a genre, and Zynga Partners.
If you'd like to listen this week, go ahead via the links below. If you'd like to be a true pal, go ahead and subscribe to us on iTunes. That's the fastest way to get our new shows. I want to mention here that the new official Apple podcast app is a great way to get our new stuff on the go, if you usually listen to us on your phone or tablet.
iTunes Link: The TouchArcade Show
Zune Marketplace: TouchArcade.com Podcasts
RSS Feed: The TouchArcade Show
Direct Link: TouchArcadeShow-058.mp3, 35.7MB
Here's some show notes:
GAMES
FRONT PAGE
---
This week's episode of The TouchArcade Show is sponsored by FDG Entertainment and Ideal Bureaucracy's Captain Antarctica.

How far would you go to rescue your kidnapped wife and children? Would you team up with a crazy inventor and ride an experimental fish-powered jet scuba suit?! Would you boldly go where no penguin has gone before? YES, we hear – and that's the spirit!
Join Captain Antarctica on a breakneck mission and help him overcome tons of devious enemies and obstacles, destroy massive bosses, and save his family and friends by making use of every crazy invention you can get! Inventor Ed has prepared powerful flashlights to overcome darkness, fish magnet add-ons, energy containers, and some of the wackiest gadgets since the invention of fruit slicing.
Captain Antarctica will be available for iPhone and iPad in July.