We've been keeping an eye on Mutant Storm ($2.99) ever since we found out that recently-formed Ninth Ninja was charged with porting the Xbox Live Arcade title to the iPad. Fans of dual-stick, fast-paced arcade gameplay will find that Mutant Storm is a great port of the classically-inspired title and a worthy addition to the genre.
For those unfamiliar with Mutant Storm, it originated as a PC/Mac title that took a lot of cues from old-school shooters such as Robotron. It was revived in 2005 as Mutant Storm Reloaded, a re-visioning that upped the ante as far as retro-inspired visuals are concerned. Mutant Storm for iPad is based on this updated sequel, and preserves all the elements that made it an enjoyable experience.
The first thing you'll notice about Mutant Storm is the great retro-inspired visual style that looks dazzling on the new iPad. You'll also see a lot of pseudo-3D effects as you maneuver around battling baddies in each level. The thing I feel is most amazing about the graphics system is the fact that Mutant Storm manages to do all this at 60 FPS. Having that sense of speed implemented so well simply propels Mutant Storm past most of the competition and does the port justice.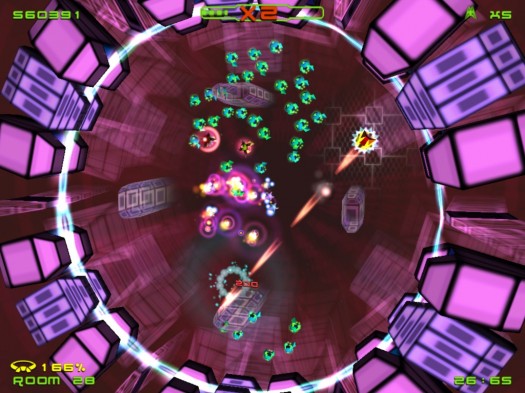 At its core, Mutant Storm is a game of high scores. Players run through a gauntlet of 89 levels that challenge you to take out all the enemies before the timer runs out. A dynamic difficulty system not only awards extra points for perfectly getting through missions, but also will eventually "reward" you with a higher difficulty, which are divided into color belts.
Initially, the first four belts of difficulty are unlocked, but as you play through adventure mode and unlock higher leveled belts, those become available for instant use in new games. Similarly, you unlock checkpoints every ten levels which will allow you to start new games at that point. As you can imagine, higher difficulties and consecutive level completions net the highest scores and thus highest positions on the leaderboards.
Mutant Storm also incorporates a decent power-up system that awards temporary upgrades such as enemy seeking missiles to tri-guns to even defense-oriented orbs that rotate around your ship taking out everything in their path. You'll quickly find that at higher levels (and belts), hitting the right power-up becomes essential for increasing your odds of passing the map and moving on.
Like many other arcade titles, Mutant Storm employs a dual-stick control scheme that should be familiar to nearly any iOS gamer. For the most part the controls work well enough, although the fast-paced nature of the game combined with the inherent limitations of touch controls lead to some frustrations in later, hectic levels. In a similar vein, Mutant Storm stays close to its roots, so gamers looking for RPG-lite features or other hybrid mechanics need to look elsewhere.
Regardless, Mutant Storm is an excellent port showcasing a psychedelic flair in its retro-visuals that seems to be quite prevalent in iOS arcade titles (and for good reason). Add in the quick pace, large number of levels and wide variety in difficulties, and you've got a great game worth checking out. I would have liked to see improvements such as some form of multiplayer, but that's a bit much for what amounts to a well-done port. Most importantly, Mutant Storm manages to conjure up that warm and fuzzy feeling of playing a game that takes a lot of homage from classic arcade titles.