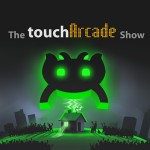 On this week's episode of The TouchArcade Show, Zach Gage of Zack Gage and our own Nissa Campbell of TouchArcade fame join me in a delightful E3 discussion. At the top, we spit some game about Microsoft's Smart Glass initiative and Kinect. Later, we dive into what AAA in 2012 will offer, and touch on some of the themes of the show. In the second half of the show, Nissa and I do a normal, but smaller version of our regular show. Project 8113 is the first game we talk about in that segment, while No Red T-Shirts is the last.
If you'd like to give us a listen, please do so! You can via the handy-dandy links just below. Or you could subscribe to us on iTunes or Zune.
iTunes Link: The TouchArcade Show
Zune Marketplace: TouchArcade.com Podcasts
RSS Feed: The TouchArcade Show
Direct Link: TouchArcadeShow-055.mp3, 32.6MB
GAMES
FRONT PAGE
---
This week's episode is sponsored by Jim Guthrie's official soundtrack for Indie Game: The Movie.

The original Soundtrack by Jim Guthrie (of Sword & Sworcery fame) for Indie Game: The Movie is available now. The 24-track album featuring music from the award winning documentary chronicling the journeys of independent game developers by filmmakers James Swirsky and Lisa Pajot is available digitally on Bandcamp and iTunes.  
It's also available on double LP exclusively through Bandcamp. Pick up a copy of Indie Game: The Movie: The Soundtrack today on Bandcamp and iTunes.