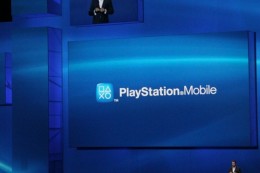 PlayStation Suite, Sony's mobile initiative that is putting PlayStation Classic games and other PlayStation titles on "PlayStation Certified" devices, has received a name change. At Sony's E3 briefing this afternoon, SCEE president Andrew House announced that PlayStation Suite is now called PlayStation Mobile. House also unveiled the initiative's first third-party hardware partner: HTC. Cool! Maybe.
We thought it appropriate to bring you this in an effort to keep following up with Suite, considering our extensive coverage when it was first announced. As the initiative exits its open beta, it's becoming increasingly more plain that an iOS version isn't in the cards as we've speculated in the past, but here's to hoping the name change indicates more than Sony's desire for a snappier name.
If anything, Playstation Mobile continues to be a forward-thinking initiative, as it attempts to wrangle smartphone and tablet users into the PlayStation ecosystem. The other two big hardware manufacturers are struggling in this area, but are taking great steps. Microsoft's Smart Glass and Nintendo's Mii-verse, for example, are exciting moves for those of us with tablets and iPhones.
[Image via TechCrunch]