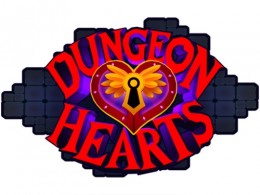 Back at GDC in March, Devolver Digital held somewhat of an "open call" for indie developers to pitch them their game ideas for possible publishing deals. They served beer and talked with various developers while being toured around San Francisco on an enormous bus. That's right, they held their meetings on a moving bus. It was a really interesting departure from the typical dry business pitches that take place at conferences, and the Penny Arcade Report has a fantastic write up of the event from when they tagged along for a few of the bus interviews.
One of the games that was pitched and was picked up by Devolver while they were there is Cube Roots' Dungeon Hearts, a fast-paced matching game dressed with the trappings of a classic JRPG battle system. In the game, colored coins scroll across the bottom of the screen almost like note charts in Rock Band. You can shuffle coins around to make matches, and the color of coin that you match determines which character in your party of 4 will attack the enemy. This continues in a "boss rush" series of battles as the difficulty steadily increases.
It's a bit more nuanced than that, actually, and to really understand the gameplay in Dungeon Hearts check out this lengthy video the developer posted back in March which describes the mechanics in the game.
We've seen some really successful uses of the "mash a puzzle game together with RPG elements" formula, like Puzzle Quest 2 ($2.99), Dungeon Raid ($0.99), King Cashing (Free), and many more. From the early looks at Dungeon Hearts it appears this might just be another winning combination. Unfortunately, Devolver Digital is pegging the release window for "early 2013", which seems much too far off for my liking. However, a new video should be hitting in the next several weeks to tide us over, and in the meantime you can feast on the screens below from a more recent version of the game or drop by our forums for some discussion of this quirky upcoming title.
Also, be sure to check out Penny Arcade Report's follow-up article on Dungeon Hearts where they talk to both Devolver Digital and Cube Roots about their experience landing a publishing deal on a moving vehicle.