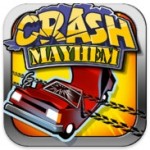 Crashing into things and making them explode almost never gets old, and that's exactly what Bravo Games was banking on when it released Crash Mayhem (Free). Luckily, this game lives up to its name and is just as fun as it may sound.
The thing about Crash Mayhem that immediately sucks you in is the lure of making as big of a crash as possible, racking up repair bills just as high as you can in the process. If this concept sounds familiar, that's because the Burnout series was basically built on this same premise, even up to the iOS release of Burnout Crash ($4.99).
Let's preface this by saying that Burnout Crash is a pretty good addition to the Burnout series, and only debuted about a month ago on the App Store. The control style in Crash Mayhem is similar, the camera view is similar, the drivers are still incredibly stupid, and the scoring system is basically the same, too. Now that you know that, you should also know that Mayhem might even improve on Burnout's formula a bit.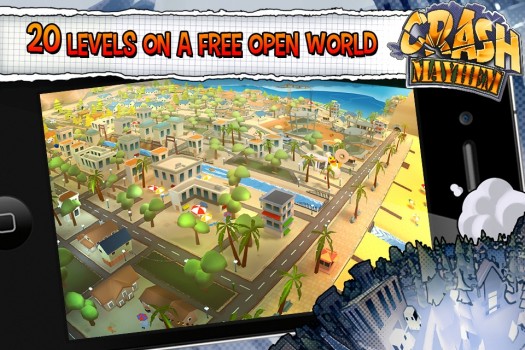 Besides the obvious advantage of Crash Mayhem being free, you can complete other goals that aren't just blowing up everything in sight, causing catastrophic damage in the process. Instead, this non-stop action is broken up by objectives you'll find across the game's open world. Being able to actually explore around a world is quite a nice refresher after spending so much time strictly making things explode.
As previously mentioned, Crash Mayhem is indeed free and as with most free games, it does have some sort of in-app purchase for you to buy if you wish. This game's pricing scheme is an example of IAP done right because you'll only have to buy it if you don't want ads or if you want some extra levels. As it is, the base free game gives you fifteen levels that you unlock as you play, with five more included with purchase.
The ads are persistent throughout the game, not just in menus and such, so if a banner blocking part of the screen will drive you crazy then forking over the 99¢ IAP to remove them will probably be high on your list of things to do. Still, having a game with as much content as Crash Mayhem available for free to try before you buy is a welcome thing.
The visuals in the game tend to be a bit drab and lacking in punch, but are satisfying enough to not be too much of a bother. Variety would have helped out a bit in this area, as you play in the same open world throughout every stage of the game. For the audio, the main theme playing on the main menu is very catchy, and the sound effects do just fine and capture the action happening on screen well.
Game Center integration is a definite advantage that Crash Mayhem has over Burnout, as you won't have to sign up for another silly account (Origin) just to share your high scores with your friends. Being Universal also helps, so that you can compare with your friends regardless of iOS device.
While it may be easy to say Crash Mayhem is a simple copy-and-paste job of the Burnout series by looking at screenshots, you'd be entirely wrong. Crash Mayhem is certainly derivative of Burnout (and especially Crash), but adds its own flavor and features that make it stand out on its own. With a price tag of free, you'd probably be doing yourself a disservice by passing this one up.