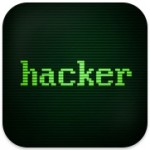 This past February I was very pleasantly surprised with the quirky title The Hacker [Free], a story-driven collection of puzzle mini-games that put you in the role as a member of an international computer hacking ring. The storyline itself was interesting if not a bit cliche, and the mini-games that served as the "hacking" in the game were both clever and challenging.
But where The Hacker really won me over in our review was in its level of immersion and attention to detail. It did a fantastic job of making you feel like you're really the protagonist programmer in the story who must utilize an 80s-era computer and unravel an evil plot surrounding your former employer, the sinister Glider Corporation. It's really an entertaining little escape from reality.
Currently, you can grab all this hackery goodness for the very affordable price of zero dollars. You should get at least a few solid hours of entertainment from the main campaign, not to mention the inclusion of fictional arcade games that are "emulated" on your system and come equipped with Game Center integration. Additional content packs are available as IAP if you crave more puzzle solving, but aren't necessary to enjoy the main story.
The Hacker is a surprisingly fun experience that feels right at home on iOS, and everybody should make sure to check it out while it's free.