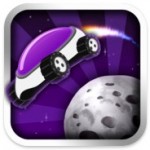 Just a quick heads up to let you know that Noodlecake Games has made two of their iOS titles free for a limited time. First up is Lunar Racer [Free], a side-scrolling 2D racer that feels like a mashup of Excitebike and Mario Kart. The physics are crazy, due to being on the Moon and all, and Lunar Racer is a frantic arcade experience due to just how easily the tides can turn during a race.
There's also a whole host of unlockable items to trick out your ride with, as well as 12 different lunar tracks to race on. Finally, there's a local multiplayer mode over Bluetooth or WiFi that is a total blast if you have a friend handy with another copy of the game. You can read about that and more in our review of Lunar Racer, but since it's free you might as well just go grab it anyway and find out how it is for yourself.
---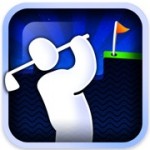 The other title Noodlecake is currently offering for free is the excellent Super Stickman Golf [Free]. It's been free a few times before, but that is definitely no reason not to grab it if you haven't already. Super Stickman Golf is what happens when you combine the trajectory-based mechanics of an artillery style game like Worms with the rules of golf. The results are spectacular. Super Stickman Golf offers a crazy amount of single player courses to play through, and a bunch of special "power-up" golf balls to use that give you unique abilities like sticking your ball to a surface or causing it to stop suddenly and drop right out of midair.
Despite all of this single player goodness, perhaps the biggest draw of Super Stickman Golf is its fantastic online multiplayer mode, which we covered when it first hit. It's a ridiculous amount of fun and is easily one of the finest real-time multiplayer experiences I've had on iOS. Needless to say, make sure to grab both Super Stickman Golf and Lunar Racer while they're currently free if you're a fan of not paying anything for good games.