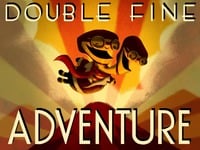 Last week, Double Fine Productions, led by industry icon Tim Schafer, made headlines all over the world when they put up a Kickstarter project with the intent of crowd funding the production of a new adventure game that harkens back to some of the classics of the 90s, some of which Mr. Schafer himself had a hand in creating. They initially were asking for $400,000 to fund the project, and if they exceeded that goal then the extra money would go to bringing the game to additional platforms beyond the PC.
Well, it took just a matter of hours for them to reach that goal, and they far exceeded it, becoming the fastest Kickstarter project to reach a million dollars in history (and ironically, only the 2nd ever to reach a million, with the first just happening a few hours before Double Find reached the milestone themselves). As of right now, the project is sitting at nearly 1.8 million dollars.
So, hooray! The project received more than quadruple what they originally needed, so an iOS version should be in the bag, right? Well, we weren't so sure, as just yesterday an update on the Double Fine Kickstarter page had some ambiguous wording that made it sound like an iOS port wasn't exactly a sure thing just yet.
Well, I guess we weren't the only ones confused by the wording of that update, as today a new video has been posted to their Kickstarter page where Tim Schafer himself goes on to confirm some details of the upcoming adventure game. Among those details is confirmation that an iOS and Android version of the game will be part of the plan. We'll of course be following the development of this new endeavor from Double Fine and will bring you any new information as it happens.