After getting together to pick our official best games of 2011, we also had our writers take a look back at the last year and compile lists of their personal favorites along with their reasons why.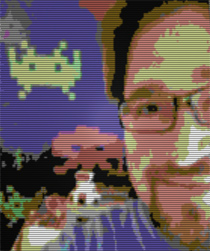 All of us here at TouchArcade joke about how rare a thing it is to actually sit down with an iOS game that we really enjoy and play it — just for fun — given the number of titles we evaluate week-to-week for our readers.
I've been writing for Touch Arcade since the beginning, but for much of this year I've been pretty heavily involved with more of the other aspects of the website: work on backend tools, HTML theming, and pieces of our coming iOS app. For the moment, I pretty much only cover the retro games and news that crosses the desk. As such, I've actually had more time (and inclination) to sit down and play some of the iOS games I like best — for fun — and it's been enjoyable.
This year I've definitely been spending time and having fun with more games than I've listed here, but the five titles below (since the other folks all kept it to five) are the games I've spent the most time with, of those that landed sometime this year. I am not calling these the "best" or "most significant" titles from 2011 that I've enjoyed, but they are the ones I've spent the most time with. So, without further ado…
Forget-Me-Not - GameClub, Free [Review] About an hour after I first discovered Forget-Me-Not, I tweeted that it was the best game I'd ever played, in my entire life. A little heat-of-the-moment excitement may have exaggerated the matter — but not much. For a lover of both retro and modern games, like myself, Forget-Me-Not is a dream come true. It was outstanding when I first played it, and its gameplay has since evolved through updates (the latest of which brought iCade support), and it has even made its way to the desktop.
In my March review, I called Forget-Me-Not the "retrolicious lovechild of PAC-MAN and Rogue," and there's really no better way to describe the game. It sports an amazing scoring system, fantastic retro graphics, and frantic action as the game progresses. If the thought of PAC-MAN combined with dungeon crawling at all piques your interest — hell, even if it doesn't — you can't call yourself a Gamer (note the capital 'G') unless you have Forget-Me-Not on one of your devices.
Tiny Wings, $1.99 [Review] Designer Andreas Illiger discovered an itch that most of us carry around with us deep down in our souls, and with his February release, Tiny Wings, he has enabled us to scratch it…or try. The itch that I speak of is a deep, deep craving to land an object on a parabolic trajectory into a series of parabolic crests and troughs, perfectly. That's what Tiny Wings is all about. It requires perfect timing and immense precession, but the reward — on every perfectly executed landing — is something like a tiny little mind-orgasm. And it's all wrapped up in a lovely pastel paper-craft rendering. Some people find the music maddening but, to me, it sounds like possibility. This is a game not to be missed.
GoatUp, Free [Review] "Climb up, tryst with amorous billy goats, eat grass, give birth." That's a brief description offered by Jeff Minter of Llamasoft regarding his ungulawesome game, GoatUp. What more could a boy want out of a retro-styled iOS title? The graphics are crude (by design), the sound sounds are all bleeps, bloops and barnyard, and the oldschool classic visual nods are quite blunt. But, GoatUp is just an insane amount of fun — and I've personally seen non-retro-oriented folks (that is to say, "normal folks") call it incredible. Minter is a veteran game designer that has always marched to the bleat of a different drummer, and GoatUp is not evidence to the contrary. It's a platformer of the endless climber sort, inspired by several oldschool classics, including the Atari 2600 title Man Goes Down, Nebulus, and Rainbow Island. It's awesome.
Minotaur Rescue, $0.99 [Review] Look — another Jeff Minter title! What can I say? The guy has a true knack for quickly knocking out games that deliver pure, simple gameplay that's loads of fun and highly appropriate for the mobile platform that is iOS. All of his titles have an intense retro look and feel, and I can't imagine them any other way, given that it was on home computers of the early '80s that he learned the formula to making lean games that don't lose track of the fact that gameplay is king. Minotaur Rescue puts you in control of a ship orbiting a star amid a psychedelic spacescape filled with encroaching asteroids. Game the gravity, blast the asteroids, release and grab the minotaurs, repeat. There are saucers too, and an Atari Combat mode. Actually, you'd better just watch the video — and grab the game.
Jetpack Joyride, Free [Review] There are lots of side-scrolling, endless running obstacle avoidance games in the App Store. It's a genre that became popular on early feature phones with the simple, one button, "keep your flying dot from hitting the sides" game Copter, or thereabouts. Over the years, titles have come along, improving on the formula, adding in elements, and bringing with them greater appeal. But not one of them brought with them real innovation combined with perfect balancing to deliver a truly exceptional game experience, until Jetpack Joyride. This game gets it all right. There's the core gameplay mechanic, the temporary vehicular change-ups that keep things from getting dull at any point, and the slot machine at the end that brings with it the easy potential for prizes after death. Jetpack Joyride is one of the rare games that I consider perfect. I could never tire of this one.
And, so, there you have it, my 2011 list of five. Anyone out there who likes this mix, have a look at my 2010 TouchArcade Staff Favorites post from a year ago. And, Happy New Year, everybody!