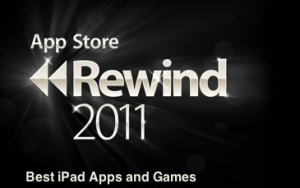 If you're new to iOS devices, or haven't been following the scene as closely as you should have been over the last year, Apple's year end feature App Store Rewind 2011 has an incredible amount of must-have games and apps that, in my opinion, you can basically just blindly download as they did a great job of picking out the cream of the crop.
Apple's iPhone game of the year is NimbleBit's Tiny Tower [Free], a great free to play little tower building simulator that we loved in our review. If you haven't tried it yet, you really should. Runners up to iPhone game of the year include Tiny Wings [99¢], which shockingly enough we also thought was great. Illusion Labs' Touchgrind BMX [$4.99] also made the cut, and, believe it or not, we positively reviewed it as well.
On the iPad side of things, Dead Space for iPad [$4.99] took home the title of game of the year. We had some issues with the title when it first launched, which we mention in our review, but all those things were massaged away with subsequent updates. Keep in mind, even if you don't have an iPad, Dead Space [$6.99] is also available for smaller screen devices, although I can't really explain the price discrepancy.
Runners up include Contre Jour HD [$2.99], which we gave 4.5 stars to in our review. Contre Jour [99¢] also comes in a non-HD variety for non-iPad owners. Last, but certainly not least by any stretch of the imagination is Superbrothers: Sword & Sworcery EP [$4.99]. We've got an exhaustive review and if you don't feel like springing for the universal version, you can save a couple bucks by grabbing Superbrothers: Sword & Sworcery EP Micro [$2.99] which is only optimized for the iPhone and iPod touch.
We'll be releasing our games of the year with out year-end roundup closer to the holidays, but needless to say, Apple has assembled a fine list of games here.