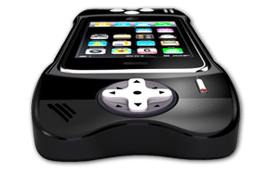 iPhone controller accessories have been generating a good bit of news, here lately. More and more existing iOS titles are gaining physical control options via updates, and just last week we detailed the upcoming Gametel Bluetooth controller that will soon become a game-enhancing iOS controller option, alongside the iCade and iControlPad. The more the merrier, true, but long time readers may recall yet another controller we covered over a year ago that has been off the radar ever since. Does anyone remember the GameBone?
Once again, Stuart Carnie of Manomio (whose C64 for iPhone just got iCade support) reached out and pinged me to share a bit of exciting tech he's had his eye on, and I'm quite eager to fill the rest of you in.
Stuart showed me the following proof-of-concept video done by Jason Chan of Australian firm 22Moo, the main man behind the GameBone controllers, depicting the venerable Competiton Pro joystick — a standard, 9-pin Atari-style joystick — tethered to a Bluetooth controller board, controlling Retro Dreamer's Velocispider as well as Bruce Lee running under Stuart's C64 system as well as his retro iOS port of Flashback, via iCade emulation. It's pretty awesome stuff.
I got in touch with Chan and inquired as to what his intentions are regarding this demonstrated technology, and also regarding the GameBone controller we last heard about so long ago.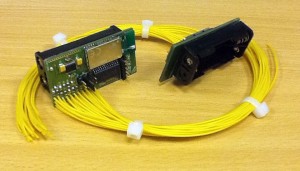 Chan informs me that he and his team are currently deciding whether they should supply the GameBone Bluetooth Module (GBM) to game accessory manufacturers, to the general public as a DIY kit, or to both. As far as I'm concerned, even if I have to bring out the trusty old soldering iron, the prospect of using any Atari-style joystick I want with iCade-compatible games is a magical one, not to be missed. Chan also let us know that 22Moo is working with a PC / PS3 /XBOX 360 game accessory manufacturer to bring this technology forth in the form of both single- and dual-stick X-Arcade-style joystick boxes for iOS and Android devices.
That's not the end of the GameBone news, however. Chan has made us aware of three coming devices that are currently in development and will be made available to iOS gamers in the future. The devices in question are:
GameBone Racer – A desk-mounted steering-wheel accessory for the iPad that will enter the final prototype stage by week's end (pictured).
GameBone GSR – A device that attaches to two of the user's fingers that allows him or her to effectively control games with their mind. The GSR uses biofeedback technology similar to that used in lie detectors. 22Moo is partnering with a Polish firm that has experience with this technology on the PC. The first prototype is completed and a second prototype is scheduled for February 2012
GameBone VT / Virtual Touch – A system in the very early stages of development that allows users to attach tiny "fingers" to a device's screen in order to simulate physical touch by way of push buttons on an external control device. The GBVT is designed to be integrated into classic gamepads and joysticks to allow them to work with games designed purely for touch.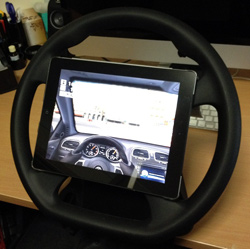 These are all devices that we were, previously, unaware of. The GameBone device that we have heard of, the one that we spoke of back in September of last year, is now known as the GameBone Pro (pictured up top), and we can't share what we've learned about it with readers just yet, unfortunately. News will come in time, however…
In the discussions with Stuart and Jason Chan, something else we were unaware of came to light. And, I've not seen this reported anywhere, and so I think many are in the dark on this — and it's a pretty big thing for accessory makers.
Some time back, we explained that the reason the iCade emulates a keyboard — and that the reason, until recently, that no analog sticks would work under standard iOS — is due to restrictions Apple places on the type of Bluetooth connection that an accessory can make with an iOS device.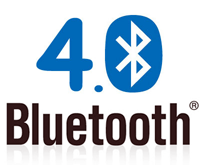 That is indeed the case for Bluetooth 2.x, which is the standard protocol on all iOS devices. There is one iOS device, however, that is capable of communicating via Bluetooth 4.0 LE (low-energy): the iPhone 4S. No other iOS device — not even the iPad 2 — is able to utilize this protocol. The exciting thing about this is that an accessory can, right now, connect to an iPhone 4S via Bluetooth 4.0 LE in a manner that provides the roomy datastream that can easily and properly accommodate things like multiple analog sticks — and without the need of any sort of approval from, or cooperation with, Apple.
So, there it is. There's nothing in the way of vendors creating and selling full-featured controllers with zero latency, other than the want of the protocol on more (future) iOS devices. Of course, Apple could always choose to open up Bluetooth 2.x and allow all iOS devices to support such high-bandwidth connection profiles, but it's unclear if they ever will.
Stay tuned for more details on the upcoming line of GameBone accessories from 22Moo as well as any of the other accessory makers out there.
[ The video in this post has been updated, expanded. ]