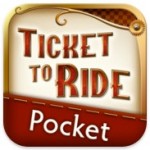 Ticket to Ride is a popular board game created by board game gurus Days of Wonder. Back in May, Ticket to Ride [$6.99] was digitally converted into an iPad game, one which we thoroughly enjoyed in our review. Ticket to Ride had an excellent computer AI to play against, but the real fun was in playing another real life person. The iPad version contained a slick online multiplayer mode for up to 4 players, but was criticized for not having a local pass-n-play mode, something that should be a core element of any game based on a real life board game. Thankfully, pass-n-play did eventually come in an update a couple months following release, and there was much rejoicing.
Yesterday, Days of Wonder has gone and released an iPhone version of Ticket to Ride, dubbed Ticket to Ride Pocket [99¢]. Many iPad gamers, and of course non-iPad owning gamers, have been clamoring for a portable version of Ticket to Ride, so this release certainly should make quite a few people happy. However, Ticket to Ride Pocket has almost the exact opposite problems that its iPad counterpart had on release. It does contain a pass-n-play mode along with its single player, but does not contain an online multiplayer mode. Days of Wonder has stated this was a conscious decision, as they didn't want to compromise the online experience with interruptions that are inherent to phones like incoming calls and spotty network coverage.
Besides lacking online play, Ticket to Ride Pocket also nixes the extra Europe and Switzerland maps from the iPad version, instead focusing on just the American map. This was another conscious decision by the developer, as they felt that the additional maps contained too much detail to be sufficiently playable on the smaller screen of the iPhone and iPod touch.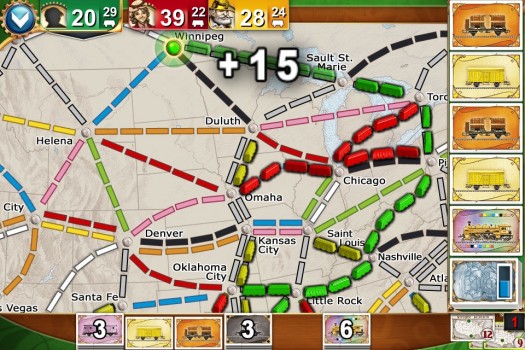 While Ticket to Ride Pocket is a more limited experience than the iPad version, it doesn't make it a bad game at all. In fact, quite the opposite. The single player AI is quite good, and pass-n-play is adequate for when you have a friend close by. There's also multiplayer over local WiFi or Bluetooth if you're close by friend(s) happens to have their own device and copy of the game. Perhaps best of all is that the pocket edition is just 99¢ as of this writing.
I still think it would be nice to see online multiplayer and the additional maps added into the game, despite the developer's concerns, and that may happens sometime down the line. But for the cheap price of entry, Ticket to Ride Pocket is a great mobile take on the board game that's worth having a look at.