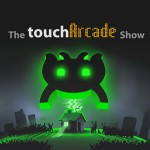 On this week's episode of The TouchArcade Show, we pummel through conversations about GenCon, The Elder Scrolls V: Skyrim, and the McRib in order to bring you the skinny on the latest and hottest iOS games. At the top, we finish up our continuing conversation about Uppercut Games's Epoch and then dig into FDG Entertainment's Blueprint 3D, Kairosoft's Oh! Edo Town, and a few other delights. In the second half, we dig exclusively into your listener e-mails.
We had a blast recording this episode and hope that you'll have just as much fun putting it in your earholes. If you'd like, you can listen just below via these links OR you could subscribe to us on iTunes and Zunes. Doing that latter is a pretty awesome deal since you get all our podcasts and content the second they hit the Internet.
iTunes Link: The TouchArcade Show
Zune Marketplace: TouchArcade.com Podcasts
RSS Feed: The TouchArcade Show
Direct Link: TouchArcadeShow-025.mp3, 45MB
We're officially out of e-mails, so feel free to hit us up for next week's episode. Oh! And here's your show notes:
GAMES
JARED'S KITTY KORNER
Touch the Cat's Numbers [Free]
See you next week!