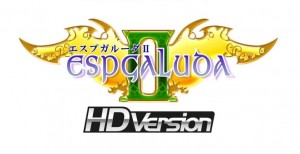 You might remember back last month when CAVE announced that their excellent manic shooter Espgaluda II [$11.99/Lite] would be gracing the larger screen of the iPad in the near future. We even caught a quick glimpse of the title in action during their UStream broadcast, though it didn't offer much insight due to some dodgy camerawork. Well today CAVE has sent along a brand new trailer for what will be known as Espgaluda II HD, along with some other interesting new details.
First off, and probably not coming as a shock to those familiar with CAVE's work, Espgaluda II HD will only be compatible with the iPad 2, and won't support the original iPad. The extra horsepower and especially the extra RAM afforded by the iPad 2 is a necessity in pushing the crazy amount of bullet and explosion sprites that are a hallmark of CAVE games.
The next bit of info we've learned is that the title's special "iPhone Mode" created specifically for the iOS release of Espgaluda II will be getting a brand new BGM soundtrack and will be rebranded "Smartphone Mode", likely due to the game's intended release on additional platforms like Android. This mode change will be part of the new HD version of the game and will come as a free update to the regular versions as well, along with the new music.
Finally, and the part that I found most interesting, is that CAVE is planning on spinning off both the retooled Smartphone Mode as well as the original Arcade Mode into their own separate games. You'll get the full versions of each mode from the original Espgaluda II game, just in individual app form. These spinoffs will be available in iPad 2 HD flavors as well as smaller versions for 3rd generation iPhone and iPod touch devices and higher.

I think this is a neat idea since CAVE games are on the higher end of the App Store pricing spectrum, though quite worth the price of admission as evidenced by our review of Espgaluda II. These spinoff games featuring just a single mode each should come in at a cheaper price than the full experience, giving a broader spectrum of players the chance to get in on the action.
But therein lies the problem, we don't actually know any pricing information for these spinoff games or for Espgaluda II HD, and a release date doesn't get any more specific than a Fall 2011 window. CAVE promises to drop this information on us soon over on their Cave World website, so we'll keep a set of eyeballs planted in that direction and bring you those additional details as soon as they're divulged.