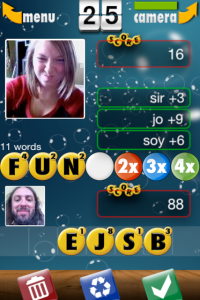 Like word games? Great! Graeme Devine's studio, GRL Games, is launching a new front-facing camera-enabled game this coming September 1 across the iPad, iPhone, and iPod Touch. It's titled Word Chat, and it'll release with a total four modes, one of which is an online mode that'll let you chat face-to-face with your pals similarly to how GRL Games' last title, Full Deck Hold 'Em [$2.99], allowed.
The online mode you'll see just below is pretty simple. In 100 second timed rounds, you and your bud are tasked with spelling as many words as you can out of an endless set of tiles. As more words are forged, the tiles are removed and the highest score wins.
The other modes are basic solitaire modes designed for challenge as well as learning. In one, you'll be given 200 titles and an infinite amount of time to come to grips with the game's mechanic. In another, you'll get 200 tiles and the aforementioned timer. The last mode is an infinite mode in which you can juice the game for more time after using every fourth letter.
We're just now getting this into our hands, and will report back to you. If you have faith in Devine like we do, though, this seems like a no-brainer.