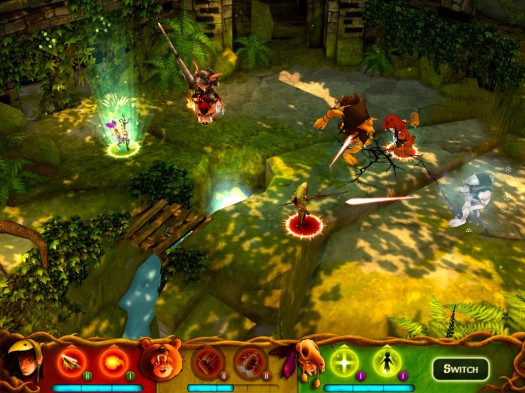 Kids vs. Goblins is an upcoming tactical action RPG being developed by Stolen Couch Games and being published by Crescent Moon. The crux of the gameplay revolves around controlling the 3 different main characters in the game and utilizing each of their unique sets of magic spells. There will be more than 80 spells in the game, and different situations that arise as you travel across the 7 locations in the game will call for the use of specific spells or tactics.
Stolen Couch has said in our forums that they took a cue from Mika Mobile's Battleheart [$2.99] in regards to controls in Kids vs. Goblins, with what appears to be a similar line drawing-esque approach to moving and dishing out commands. Since Battleheart is one of the finest games around, I fully endorse this decision. It also employs similar real-time combat, and I'm looking forward to seeing just how deep the magic system is and how extensive the RPG elements are.
At the very least the 3D graphics are sure looking nice, and I'm really liking the general art style and character design used in the game. The developers plan on releasing Kids vs. Goblins in September, and I'm sure we'll be bringing you plenty more details about the game in the weeks to come.