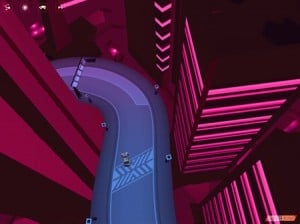 You may recall back in March when we sat down with SuperMono Studios during GDC to check out their fancy new 3D engine that they had spent the past 7 months or so building from the ground up for future mobile games. At the time, the two man SuperMono team of Tak Fung and "Beardy Dave" Ferner had intentions of creating a new racing title using said engine, and they're finally ready to share the first tidbits of this game which will be called Drive Forever.
First of all, as you can see from the first screenshots of the game, Drive Forever has a really unique look to it. The developers set out to create something that didn't look like your typical racing game, and they've certainly achieved that with the minimalist approach and bright Tron-like neon lighting. After seeing the demo for the engine used in Drive Forever, I have no doubt that it will be running silky smooth and using some impressive lighting effects as well.
More interesting to me than the fancy shmancy visuals, however, is the creative concept behind the game. Drive Forever won't be a typical racing game, and in fact will be more of an endless, semi-randomly generated driving game where the bulk of the content will come from user-created levels. It's a bit hard to explain, so here's how Beardy Dave puts it on the SuperMono blog post where the game was announced:

It's sort of two games in one. Feeling creative? Build an awesome city, and sketch a winding road running between the towering skyscrapers! In the mood for some arcade action? Race through the giant mega-city that everybody has worked together to build!
When we say Drive Forever, we mean it. The idea is that you never need to drive the same bit of road twice. You just press 'drive', and the game picks a section of track that somebody's made, and downloads it. As you get to the end of that bit of track…it downloads a NEW bit of track, that somebody else has built, and seamlessly adds it to the end. And it keeps going! Forever! Or until you run out of time…
You'll be able to rate the user-created track pieces that are uploaded and the game will pull from the top rated segments when building out your endless roadway to drive on. You can also save particular segments as favorites to race at any time. There will also be plenty of incentive to do well in both building tracks and driving on them. Good driving will be rewarded with things like new cars, custom paint jobs, and fancy accessories for your ride to show off how awesome you are. Building high-rated tracks will unlock new buildings, themes, and scenery to use in future tracks that you create.
One other thing to note is that Drive Forever will be playable offline, so it doesn't require a persistent online connection just to play it but you will need to access the internet in order to upload or download new tracks, submit scores, and rate other users creations. It all sounds pretty awesome so far, but ultimately it will come down to how well the game actually plays when it's finished. SuperMono is hard at work on the game and is hoping to complete it in 2-3 months time, though of course this could always change.
At the very least we're definitely intrigued, and we'll be keeping tabs on Drive Forever's progress in the coming months. Make sure to check in on the SuperMono blog often as they plan to keep it updated with new info, and check out the thread that I created mere moments ago in our upcoming games forum for more discussion of Drive Forever.