Many of you should be familiar with SuperMono Studios from their wildly popular MiniSquadron [99¢/Lite] games and most recently from their RPG experience bar-laden to-do app EpicWin [$2.99]. We liked EpicWin when it was released, but that was way back in August of 2010, and you may be wondering what the two man SuperMono development team comprised of Tak Fung and Dave Ferner have been up to since then.
Well, basically they have a couple of new games in the works, but for the past 7+ months they have been carefully crafting themselves a high end engine to use for these games. There is all sorts of technical wizardry going on in this built-from-the-ground-up engine, but in terms that even a laymen like myself can understand, and in SuperMono's very own words, it "makes everything look completely rad". Have a look at the trailer for the tech demo that shows off the nifty effects of the engine:
For those who understand technical jargon, this engine uses something called deferred rendering which allows for up to twenty dynamic colored lights to be in motion at once, complete with bloom and reflection effects, and run really smoothly the entire time. In many ways, this is SuperMono's way of saying "we don't need no stinking Unreal Engine" and prove that they can do advanced graphical effects on their own.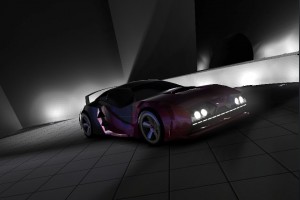 The video of this tech demo doesn't really do it justice, and in person it's really impressive. As such, SuperMono is considering releasing this demo for free on the App Store for people to check out and toy around with. You can swipe around to change the view of the car or turn on and off the various effects, and it's actually pretty cool.
Eventually this engine will be put to use in a new racing game, which despite the street racing style of the demo will be really unlike most typical racers. Also, a MiniSquadron 2 will be coming sometime down the road, using this advanced engine for 3D graphics while retaining the same 2D gameplay. We'll have more on these SuperMono developments as work continues on them.