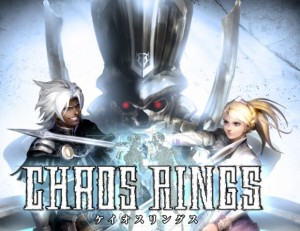 According to gaming blog Andriasang.com, the latest issue of Japanese game magazine Famitsu has revealed that Square Enix is working on two follow-up titles to last year's iOS exclusive RPG Chaos Rings [$12.99/HD].
The first is called Chaos Rings Omega, which is listed as coming out for the iPhone. It was first assumed that this was a sequel to the original Chaos Rings, but in fact Famitsu details that it will be a prequel that is set before the first game. Surprisingly, it also says that the game is set to release in May, though this would be for the Japanese version and an English translated version would likely come sometime after.
Square Enix has also placed a teaser ad in Famitsu for a Chaos Rings II, which would make it appear that there actually is a proper sequel in the works.
Sadly, that's all anybody knows at the moment, though we'll be following this closely as Japanese blogs will no doubt start posting page scans from the new Famitsu along with more information. We definitely enjoyed Chaos Rings a lot last year in our review, and the game has done very well for Square Enix on the App Store. It's certainly no surprise to hear that more games are coming in the series, but it's exciting nonetheless to know that new details will be emerging in the near future.
We'll of course keep you up to date on any new developments regarding these new Chaos Rings titles, and there's a thread in our forums where you can discuss and speculate these upcoming games with your fellow gamers.
[Via Andriasang]