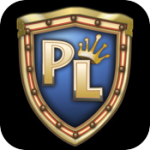 There's been a shocking amount of crossover between the iOS world and the mainstream world lately. Both Doodle Jump and Angry Birds have tie-ins with major motion pictures, Angry Birds was (vaguely) featured during the Super Bowl and Cut The Rope even took home a BAFTA. When this is discussed on our forums, I've seen a few people seemingly jokingly mention that it won't be long before a game on the App Store has its own dedicated TV commercial. Well, that day is today.
The following commercial is now running on Cartoon Network, Nickelodeon, MTV, Comedy Central, G4, and more:
We thought Pocket Legends was great in our review nearly a year ago. I had no idea that the game was big enough or successful enough for TV commercials until I met with the developers during GDC. Since our initial review, the game has seen several updates to add even more content and functionality. Now is as good of a time as ever to give Pocket Legends a spin, especially if you're looking to get a jump on the inevitable influx of players from this TV advertising campaign.
While the existence of this commercial itself might not seem like that big of a deal, this is a major step in legitimizing smartphone gaming as a mainstream gaming platform in the USA.