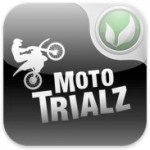 Back in November, we reviewed a game called iTrials which we enjoyed quite a bit. It was a dirt bike stunt driving game with 2D gameplay and 3D graphics where the goal was to complete each of the 27 levels as quickly as possible while traversing the insane jumps, loops, and hazards of each. The physics were a bit crazy (but in a good way), the controls were solid, and iTrials offered an extremely fun experience that was akin to the Trials games by RedLynx on PC and consoles.
Well apparently iTrials was a bit too much like Trials, and RedLynx asked iTrials developer Tooko to remove the game from the App Store for fear that players might be confused and think iTrials was an official version of Trials that was endorsed by RedLynx. While Tooko seemingly used Trials as an inspiration for their game, they never set out to mislead anybody and really just aimed to make a great physics-based side-scrolling motocross game for iOS devices.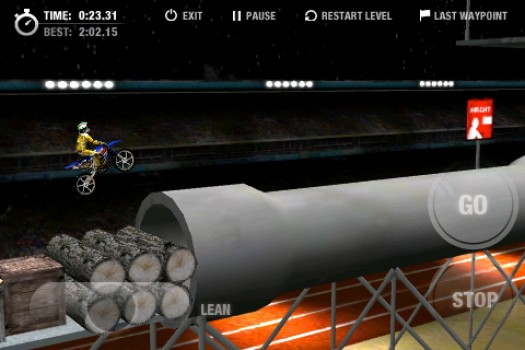 Tooko agreed to take the game down however, and worked amicably with RedLynx to make changes to iTrials that would differentiate it enough from Trials so as to avoid any confusion to customers. The result is the just-released MotoTrialz [99¢], a free update to previous owners of iTrials. The biggest changes are to the name and the location of the game, as MotoTrialz now takes place in an outdoor stadium rather than an indoor warehouse.
The 27 levels themselves are unchanged from the original version, but Tooko did take this opportunity to add a couple of nice enhancements to MotoTrialz. The game now features anti-aliasing that does wonders for the visuals, which we though were kind of jaggy in the original iTrials. Also, Agon has been replaced with OpenFeint as the online platform for the game. Unfortunately this means that none of your previous Agon scores or achievements will transfer over, but the reliability of OpenFeint is much more solid and Tooko is planning on taking advantage of the OpenFeint Challenge feature sometime in the future.
If you missed iTrials when it was available initially, now is your chance to jump all over this gem of a game now called MotoTrialz. The fact that Tooko had to spend time to make all of these changes is unfortunate, but the new MotoTrialz is an overall better game because of it. Now that the game is available again, Tooko will get back to focusing on new levels and enhancements for future versions of MotoTrialz. Players have really loved the game in our forums before, and there is a renewed buzz going since it has been rereleased in the App Store.
If you were a previous owner of iTrials, grab the update in iTunes to check out this new version (you can back up the .ipa file of the original iTrials on your computer to preserve it, as the update will overwrite that version). If this is the first you're hearing of the game, MotoTrialz is highly recommended for fans of action-packed side-scrolling stunt racers, and yes, even fans of the Trials series of games who are looking for their fix on the go.