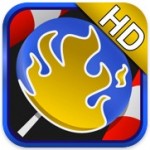 One of our favorite pastimes around TouchArcade HQ for the past several months has been Disc Drivin' [99¢/Free]. This asynchronous online multiplayer racing game has you taking turns flicking a small disc around a track against your competitors to see who can cross the finish line first. Powerups and hazards add a bit of a Mario Kart flair to the action, and the turn-based nature of the game works incredibly well for gaming on the go. We really enjoyed the game in our initial review from December, and things only got better when random online matchmaking was added to the mix last month.
Last week, developer Pixelocity released an iPad optimized version of the game called Disc Drivin' HD [$2.99]. The gameplay and content remains identical to the iPhone/iPod touch version, but the artwork is scaled appropriately to the larger screen and the menu interface has been significantly tweaked. All menu functions are now assigned to a handy toolbar at the top of the screen, and pop-up windows make things like accessing your current races list or the in-game chat a breeze.
One other small but welcome addition is the ability to toggle the overhead view on or off, rather than having to hold down the camera icon to do so. It makes getting a bird's eye view of a player's previous turn much easier, and gives you a better perspective on the track. I'd love to see this ability added to the regular version of the game. Disc Drivin' HD plays very well on the larger screen, and it looks nice visually although the jagged edges of the graphics are more pronounced. It would be nice to see that smoothed out in a later version, but it isn't a huge deal.
Overall the iPad version of Disc Drivin' is a great way to experience the game, especially if you only own an iPad and have yet to get in on the fun. Since games are hosted server-side, you can freely use either device to play from any of your current races if you own both versions of Disc Drivin'.  As an added bonus, the standard version of Disc Drivin' is currently on sale for 99¢ to celebrate the release of Disc Drivin' HD. This sale will run until at least Thursday, and there is a fully-featured ad-supported version of Disc Drivin' as well if you want a no-risk way to check out the gameplay.