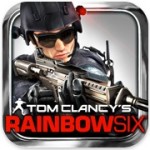 Back in January Gameloft revealed that they were working on a new entry in the Tom Clancy's Rainbow Six series titled Shadow Vanguard. We've previously posted the official trailer, a hands-on gameplay video, and an interesting interactive trailer that Gameloft created that takes you through part of the first level. After all of that anticipation, at long last Rainbow Six Shadow Vanguard [$6.99] has finally gone live in the App Store.
The game features 11 single player missions where you lead a special elite group of soldiers in taking out a terrorist organization. Unlike your typical first-person shooter, Rainbow Six games rely on tactical gameplay choices rather than an all out run-n-gun approach. Taking your time to investigate each situation closely and determine the best plan of attack will get much better results than just bursting in and blasting anything that moves.
Perhaps the most interesting aspect to Rainbow Six Shadow Vanguard is the multiplayer options. It features a traditional deathmatch mode with up to 10 players in a game, but there is also the option to team up with up to 2 buddies and have a go at the campaign cooperatively.
Gameloft has proven they can create competent FPS experiences with games like N.O.V.A. 2 [$6.99/HD] and Modern Combat 2 [$6.99/Lite/HD], both of which feature great single-player campaigns and robust online multiplayer options. In the case of Rainbow Six Shadow Vanguard, we'll be holding off our full review for a bit so that the servers can populate with other players first and we can get a good feel for all the online functionality in the game.
Until then, there is a forum thread filling up with early impressions of Rainbow Six Shadow Vanguard if you're interested in hearing what your fellow gamers have to say about the game. We'll put it through its paces as well and report back with a review soon.