The hype machine is in full swing for the release of Gameloft's newest shooter Tom Clancy's Rainbow Six: Shadow Vanguard, set to hit this Thursday. Rainbow Six: Shadow Vanguard will feature 11 tactical missions where you'll be able to direct your AI team of specially trained soldiers or, in a first for iPhone first-person shooters, you can link up with up to 2 buddies online and play through the campaign cooperatively.
In addition to the cooperative mode, Rainbow Six: Shadow Vanguard will feature an online deathmatch mode for up to 10 players. Here are some screens from the 5 deathmatch maps that will be included at launch.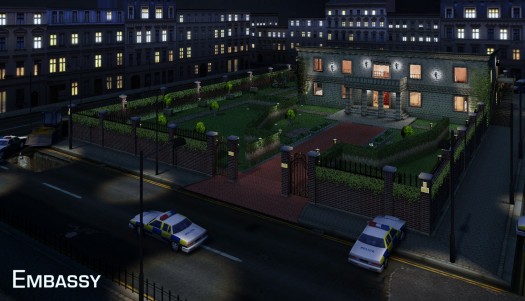 For their latest video for Rainbow Six: Shadow Vanguard, Gameloft have taken an interesting approach at making it interactive. Much like the Choose Your Own Adventure books I read as a child, the video will stop occasionally and give you a choice on how to handle the current situation, with some choices ending up in your team's demise and others having you come out victorious. The video will only work on a Mac or PC, so if you're checking this out on your iOS device it won't pan out:
At first I thought the interactive demo was kind of cheesy, but after running through it a few times it's actually pretty neat. And it shows off a good amount of gameplay for Rainbow Six: Shadow Vanguard, which appears to follow fairly closely to the console titles that I love so much. It will be interesting to see how well the online co-op plays out, and how the deathmatch will be with all the tactical gameplay additions rather than your average kill everything free-for-all. There's been a huge buzz for the game in our forums for some time now, and we're also eager to get our hands on Rainbow Six: Shadow Vanguard this Thursday.