Last June at WWDC, we spent some hands-on time with the then upcoming Alien Space from indie developer Owens Rodriguez. We really enjoyed the title even in its work-in-progress state, and were looking forward to its release later in the year. Then this past October, Alien Space [99¢/Lite] finally launched a bit later than Owens had anticipated and it somehow slipped under our radar, though it has been highly praised by the members in our forums (nothing gets by them).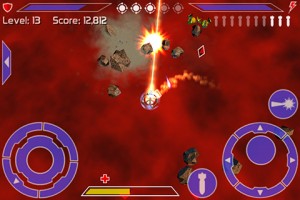 I've since spent a good amount of time with Alien Space, and can confirm that it is an incredibly solid dual-stick shooter. It features a 30 level campaign, a Survival mode, a suite of upgradeable weaponry, and incredibly intelligent enemy AI which makes for some frantic space battling. The real standout feature though is the absolutely spot-on controls that rival any of the other top dual-stick shooters in the App Store in terms of responsiveness. All of these factors combine in Alien Space to make for a great gaming experience.
At Macworld this year, I once again met up with Owens to discuss his current project which is an alternate version of Alien Space. This upcoming separate game will be a retro re-skin of sorts to the original game, though with at least one brand new game mode in addition to the Campaign and Survival modes.
Owens told me that he was a huge fan of the original Asteroids back in the day, and wasn't completely satisfied with the role that asteroids played in Alien Space. As such, the main focus for this new mode is to somehow base the gameplay more heavily around the asteroids that are floating around the galaxy. Additional modes, weapons, or enemies are also a possibility for the new game, though nothing is set in stone currently.
Here's a short video of the new retro-themed Alien Space. It's still in progress, so the explosions and some of the weapon effects haven't received the retro treatment yet, but it should give you an idea of the direction the game is going:
Owens is shooting to have this new Alien Space in the App Store by mid-to-late March, barring any sort of hang ups. If you haven't yet checked out the original game, it's currently on sale for 99¢ and there is a lite version to try as well. We'll take a look at this new version of Alien Space with the old-looking style when it launches this March.