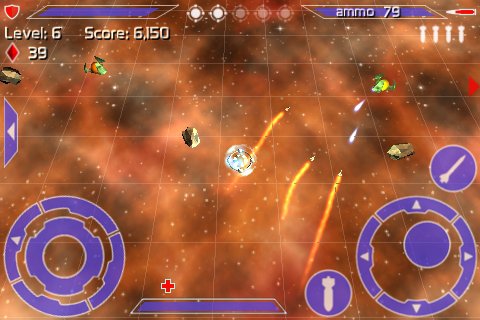 During WWDC 2010, we had a chance to talk with Owens Rodriguez and have a quick look at his upcoming iPhone shooter, Alien Space.
The game, which strikes me as something of a cross between Asteroids and Super Stardust HD (and, as such, Meteor Blitz), is a dual-stick space shooter featuring 50 levels, various upgradeable heavy and light weapons, and online achievement tracking and leaderboards via Apple's Game Center.
Alien Space
is pretty much a one-man effort, with Rodriguez working on the code and graphics assets in his spare time over the past year and a half. His
Alien Space
Facebook page
provides some history on the title. According to Rodriguez, the game should be finished in late July.
Have a look at the developer's trailer video, which our forum readers seem to be liking.
Although I only spent a short time with the game during the conference, I came away impressed. We'll take a detailed look at Alien Space once we have the release version in our hands. Stay tuned.