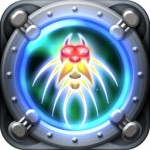 Chaotic Box's Silverfish [99¢/Lite] is an intense arcade-style avoidance game with flashy retro graphics and fast-paced gameplay. We really enjoyed Silverfish when we reviewed the game back in November, and we also really liked the brand new Haste mode that was added in an update just a couple of weeks ago. Despite all of this positivity towards Silverfish, though, the game never really seemed to catch on with mainstream App Store gaming populace.
Now there's no reason not to at least give the game a try, as Chaotic Box has just released Silverfish Free into the App Store. Silverfish Free features a single game mode based on the Reaper mode from the full version of the game. This free version is ad-supported, but does contain full Game Center integration for competing on high score leaderboards and unlocking achievements. It even contains two exclusive achievements not found in the full version.
Silverfish Free is a great way to get a taste of the regular Silverfish without having to pony up any dough. Should you decide to upgrade to the paid version, you'll get an unlimited Reaper mode along with 3 additional play modes, as well as many more achievements and leaderboards through Game Center. Silverfish really is one of the best games that you aren't playing, and players in our forums have been loving it since release. Check out this new lite version, and if you dig it, the full version of Silverfish is still currently on sale for 99¢.