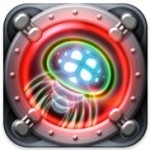 This news flew under our radar for a few days, but on Monday Chaotic Box released a substantial update to their fast-paced iOS game Silverfish [99¢]. Silverfish is a retro-styled arcade game where the goal is not to destroy the many enemies racing about the screen but rather to avoid them altogether. There were three different modes in the release version of Silverfish that played on this main mechanic.
This latest update adds, among other things, a fourth mode to the game called Haste mode. Our favorite of the original 3 modes was Reaper mode, and Chaotic Box colorfully describes the new Haste mode as "Reaper mode cranked to 11". Here's an excerpt of Reaper mode from our review of Silverfish followed by the video showcasing the new Haste mode:
Finally, there's Reaper mode (my personal favorite). In this mode, you are given one life, three Time Shocks and 50% power to start. Collect red Power Pods to kill the baddies on your tail and add to your health, and when your power meter maxes out, you become invulnerable for a short period, allowing you to plow through your enemies, leaving a wake of destruction.
Haste mode also includes a new Parasite and enemies, a new powerup called Vigor, and 6 more Game Center achievements. Besides the big new addition of Haste mode, there are a few other aspects to this latest update. The game is now compatible with fast-app switching, it will automatically save and restore your game in progress, and there are new customization options for the d-pad controls. Also an assortment of bug fixes and optimization rounds out this update.
If you haven't picked up Silverfish yet it's currently on sale for just 99¢. Players in our forums have been enjoying this one a lot since release, and it's definitely recommended if you like manic arcade-style gameplay.