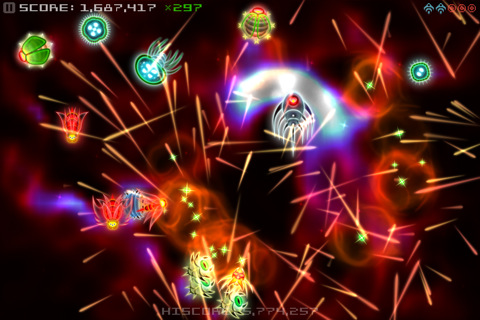 Back in September we posted an upcoming game story marking, among others, Silverfish from Chaotic Box, who brought Pinch n' Pop in late 2008. Earlier this month Silverfish wriggled into the App Store [link], and we've spent some time putting the game through its paces.
Silverfish is a modern retro-styled game featuring electric neon swirls, plasma glows, and screen sparks aplenty (that take advantage of the Retina display where present). The look brings to mind Geometry Wars. And so, too, does the gameplay, really — at least as far as the Pacifism playmode of Bizarre's modern classic. Silverfish is an object avoidance game where the goal is not to blast your vast swarms of enemies to glowing bits, but to avoid them for as long as possible, picking up the score multiplier pellets they leave behind in death, all the while. The closest iOS analog is probably Tilt to Live.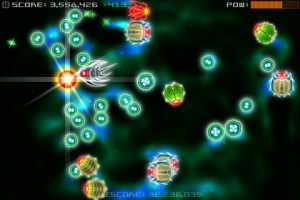 There are three subtly different modes of play presented in Silverfish. There's Onslaught mode, where you are given four lives and three bombs to use in trying to stay alive as long as possible. Scavenger mode gives you but one life to play with, three bombs, and the ability to sustain a certain amount of damage, tracked with an onscreen power meter. In this play mode, your power drains over time. Collect red Power Pods to destroy nearby enemies and add to your health. Finally, there's Reaper mode (my personal favorite). In this mode, you are given one life, three Time Shocks and 50% power to start. Collect red Power Pods to kill the baddies on your tail and add to your health, and when your power meter maxes out, you become invulnerable for a short period, allowing you to plow through your enemies, leaving a wake of destruction. Each mode features a different sequence of advancing enemy types to contend with.
Your onscreen silverfish is controlled by way of a swipe-anywhere mechanic that you can use with actual swipes or with constant pressure, as a sort of virtual D-pad with an option setting for fine-tuning the swipe threshold. I find the distinct swipe approach works best (think PAC-MAN's swipe controls), but do wish that you could move diagonally; the controls operate only in the four cardinal directions.
Silverfish, in any of its play modes, is a simple, straightforward game that starts out quite manageably but ramps up in difficulty in short order. You won't last long — which, along with Game Center leaderboards and achievement tracking, lend the game a very strong "just one more time" element. It's a great game to have around when you're looking to quickly get in and out of some pretty intense arcade action. Our forum readers are having lots of fun with this one.