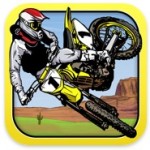 This past Friday we went hands-on with Mad Skills Motocross from Turborilla and Racer X Online, and as of today the game is now available in the App Store. Mad Skills Motocross [$1.99] is a 2D side-scrolling motocross game, somewhat similar to the classic Excitebike but with enhanced visuals and an absolutely brilliant physics system. It lacks a couple of features that we've seen implemented in similar titles over the years, namely real-time online play and a level editor, but makes up for it by being fast, smooth, challenging, and above all else a total blast to play.
The controls in Mad Skills Motocross are simple, with gas and break buttons on the left and buttons to lean forwards or backwards on the right. Additionally you have the option of flipping the position of these controls or using the accelerometer for tilting. You can perform various tricks on your bike as well, like front flips, back flips, wheelies, and stoppies. There are also a number of special moves for your bike that you will gain through playing, like a vertical jump or a nitro boost. Utilizing your entire suite of abilities is essential to performing well in the game.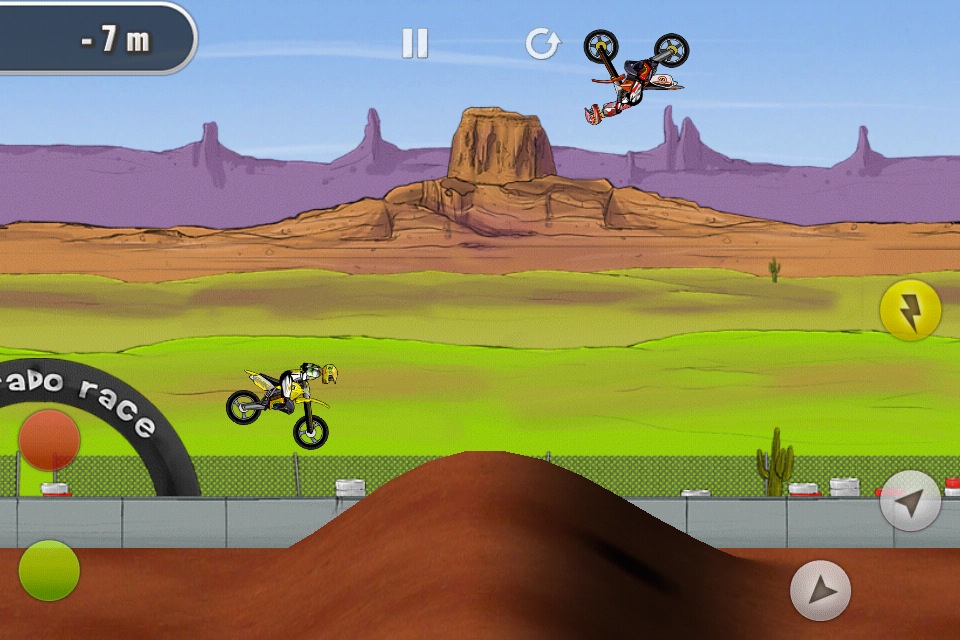 The meat of Mad Skills Motocross is the Career mode which features a whopping 52 tracks spread across 5 increasingly difficult racing divisions. Levels start out modest enough, and ease you into the basics of jumping, racing, and tricking. But fairly quickly the difficulty ramps up, and it will be a true test of your skills to win out against the AI controlled opponent in order to complete all of the available levels. Thankfully, there are always a few levels unlocked at a time, so if you get stuck on a particularly challenging race you can skip it for the time being and play a later one.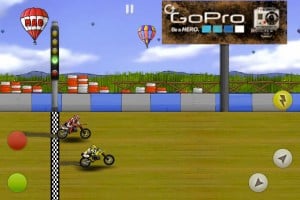 Besides the Career mode, there is also a robust Time Attack mode. Here the top 5 best times are saved from each individual track, along with full replays for each one. You can choose to "attack" any of these times and compete against your own ghost in an effort to improve that time. You can also send a challenge through OpenFeint for any of these times to see if one of your buddies is able to defeat your ghost racer. OpenFeint also includes achievements as well as leaderboards for every track, which is perfectly suited for this type of game.
All of these features come together really well in Mad Skills Motocross, and the whole experience is heightened by the wonderful physics system. The most subtle nuances of how you take off or land when jumping can affect your overall performance, and this is the type of game where you will replay a level over and over again just to get that "perfect run" and shave tenths of a second from your time. It just feels so fluid to lean far back on your bike and pick up speed, lurch forward as you launch from a jump and then land smoothly down the other side. There's a real rhythm to racing that is very satisfying to learn and try to master.
The simplest way I can put it is that Mad Skills Motocross is pure fun. While it doesn't have real-time online multiplayer like the similar iOS game Motocross Challenge [99¢/Lite], the OpenFeint challenge system is a good substitute and actually might be a better fit for gaming on the go. The desktop version of Mad Skills Motocross features a level editor, and although that didn't make it into the iOS version of the game, the developers are keen on finding a way to squeeze that in sometime in the future if possible. With the 52 tracks in the game, there is no lack in variety of places to race even without an editor, although it would be a cool feature to have.
Impressions from players in our forums are overwhelmingly positive, and if you're in the market for a fast-paced arcade-style racing game it doesn't get much better than Mad Skills Motocross.