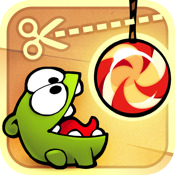 Heads up: a sizeable and free update is coming to Cut The Rope "very soon," and it looks like the kind of thing you'll want to grab immediately — especially if you have an iPhone 4 and a hankering for more Cut The Rope levels.
The update consists of a level pack called Cosmic Box, which as you'd guess from the name, is themed around space. You'll get a total of 25 new levels and a chance to play around with a new mechanic that inverts the games' physics. This update will also add enhanced Retina screen visuals, "improved scoring accuracy," more expressive Om Nom animations, new sounds, and a total of 11 new achievements.
Want a taste of what's to come? Go ahead and check out this teaser trailer.
ZeptoLabs made sure to note that this 1.1 update will be the first of more updates to come. In fact, the next is hitting this holiday. "The 1.1 update is just the beginning; we hope to release an additional update just in time for the holidays and bring even more action-packed, Om Nom excitement to your fingertips," Zepto said in a statement.
Don't have Cut the Rope? Dude, you're like the only guy on Earth. Go ahead and check out our write-up and join the party. The game's only getting bigger, and if this update is as functional as we expect it to be, it's also only getting better.