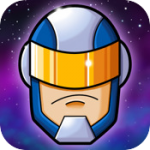 Earlier this month we previewed Linkoidz, a new arcade puzzle matching game from Retro Dreamer Games, developer of Sneezies [99¢/Lite/HD]. Based on that preview video, Linkoidz looked similar to Astropop or Magical Drop Touch [$2.99] in that you actually suck in orbs from the stacks in the playfield and place them strategically in order to create matches and combos, rather than being given brand new orbs to match each time as in a game like Bust-A-Move [$4.99/Lite]. Earlier tonight Linkoidz [$1.99] went live on the App Store, and after spending some time with the game it does strike me as very much like the aforementioned games offering some fast-paced arcade matching, sharp and colorful graphics, and an interface that feels right at home on a touch screen.
In Linkoidz your spaceman character huddles inside his half-dome shield at the bottom of the screen as stacks of enemies, called Linkoidz, build up in columns on top. The more stacks of Linkoidz that pile up the more stress gets put on the shield, represented by a gauge at the very bottom. As you match Linkoidz you can regain strength in your dwindling shield meter, but if it reaches zero then the shield breaks and the Linkoidz destroy you. There are various types of Linkoidz, rocks, ice blocks, and bosses to deal with as you frantically try to keep making matches before your shield destructs. The gameplay in Linkoidz is shown really well in the following video from Retro Dreamer:
Linkoidz is a universal app that will run on both the iPhone/iPod touch and iPad, and comes equipped with Retina Display graphics for owners of 4th generation devices. There are a ton of different levels and game modes to play through as well as OpenFeint and Game Center integration for high scores and achievements. Our forum members are having a blast with the game so far, and our own impressions are really positive as well. In a marketplace that is overly saturated with color matching games, Linkoidz stands out from the pack by being designed to feel natural to the touch screen interface and offering some frantic matching fun.