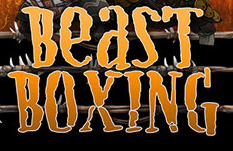 Announced way back in February of this year, Beast Boxing 3D is a new first-person iOS boxing game from Goodhustle Studios. Said to be inspired by the classic Punch-Out! series and the more recent PC and Xbox Live Arcade first-person fighting game Zeno Clash, given the excellent video preview released by Goodhustle I'd say that Beast Boxing 3D is looking very close to hitting that mark.
Beast Boxing 3D will have 9 different opponents to square off against, all of which are wild and menacing looking characters. There will be 4 arena locations to fight in initially, and Goodhustle hints that additional characters and arenas may be created for future updates to the game. There will be a story driven career to play through as you face each of the 9 fighters, with the ability to rematch previous opponents to earn extra cash. This cash can be spent in a gym to upgrade your equipment and abilities in pursuit of becoming the best boxer in town. The career can be played on three difficulty settings that Goodhustle promises will each offer a different experience and cater to gamers of any skill level.
This video shows the impressive looking graphics and smooth animations of the crazy boxers in Beast Boxing 3D:
There have been a number of boxing games released on the App Store, and some very good ones at that. But it always seems that the touch screen interface holds them back from greatness as these kinds of games traditionally work best with physical buttons. The one thing I'm dying to see is how the controls will work out in Beast Boxing 3D, as I'm already sold on the visual style of the game.
Beast Boxing 3D has already been approved by Apple and Goodhustle is just waiting for the lite version to be approved so as to release them both at the same time. More info and screenshots can be found in the upcoming games thread in our forums, and we're looking forward to going a few rounds with Beast Boxing 3D when it hits the App Store hopefully within the next week or so.