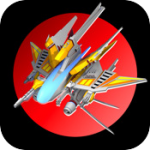 Last month we posted some info on an upcoming bullet hell shooter from Firi Games called Phoenix. After going hands on with Phoenix, we ended up really liking the randomly generated nature of the game and were impressed with how well the scaling difficulty worked in practice. While the core gameplay was a lot of fun, Phoenix lacked graphical variety and overall had a rough around the edges feel. This last weekend Phoenix [99¢] was released into the App Store, and the final build of the game has a much more refined feel gameplay-wise but still has some minor issues that hold it back.
Each playthrough of Phoenix is one endless high score run with randomly generated small, medium, and large enemies. Opposing ships are comprised of many different pieces that can be put together in all sorts of ways, meaning you'll be facing a lot of enemies that look similar but can have slight differences from one another. The bad guys have a nice variety of different bullet types, and it's both fun and challenging to try and dodge the ridiculous amount that's being fired at you at any given time. Even with all the action that is taking place on screen at one time, Phoenix still runs smoothly across all of the iOS devices.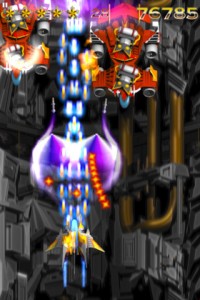 Phoenix uses a scaling difficulty level, and the developers have implemented this in a really smart way to ensure that the game is approachable by players of any skill level. Destroying enemies during play will slowly add stars to a gauge in the upper left corner, up to five. The more stars you have the more difficult the enemies are, and the more points you earn. Each time you are hit by an enemy bullet you'll lose a star and the game's difficulty will drop down a notch. Before starting each game you can choose how many stars to begin with and during the course of that play the star level will not drop below what you choose even if you're hit by enemy fire.
My biggest problem with Phoenix is one that remains from the preview build that we tried last month, and that is that the game's graphics and environment get overly repetitive. There's only one scrolling background in the game and nearly all the enemies use a similar color scheme and design so that they don't really differentiate themselves from each other. The fact that the gameplay is so enjoyable makes this problem somewhat forgivable though, and I would bet that Firi Games will work on adding some visual variety to the game in future updates.
Note that this video is of the preview version of Phoenix, and the released version contains more sound effects and background music.
Phoenix is one of those games that really grows on you the more you play it. I love how it's different each time you play and it captures that same type of magic of classic arcade-style high score games. There is regional and global online high score tracking using Firi's own leaderboards in addition to Game Center leaderboard integration. Players in our forums are really digging Phoenix as well, and Firi Games is there actively collecting feedback for future update consideration. At the price of 99¢ if you like scrolling shmups, randomly generated games, high score challenges, or any combination of the three then you should definitely give Phoenix a look.