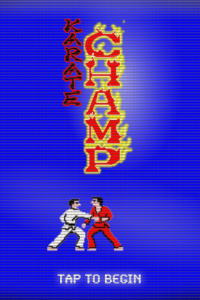 Retro game fans — especially those with friends in meatspace — are in for a treat with Revolutionary Concept's latest release, Karate Champ XL. Shortly after Karate Champ for the iPhone hit the App Store we reported that the studio was hard at work on an iPad version that would feature a two-player, split-screen play mode. The wait is over and we're happy to report that Karate Champ XL for the iPad [App Store] has arrived.
Karate Champ, which was rated one of the 10 most influential games of all time by IGN, is a 1984 arcade fighter that was one of the very first 2D, side-perspective, face-to-face fighters to hit the arcades. In Karate Champ, the player controlls a karateka with two joysticks, one for movement and one for attacks, that together allowed for a wide variety of attack combination. It is a match for points as well as a race against the clock; if both fighters are still standing when the timer runs down, he with the most points wins. It's simple by today's fighter standards, but is appealingly so to many, myself included.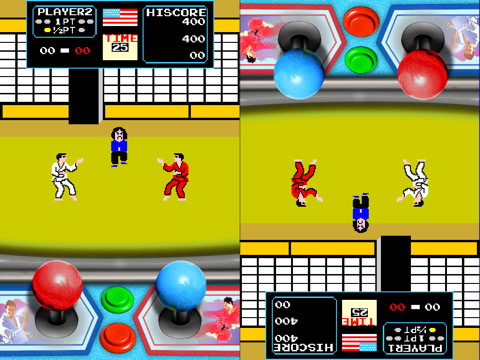 Karate Champ XL features everything that the iPhone version has to offer, and then some. There are 12 different environments, two-player Bluetooth and WiFi support, the original '80s sound effects, all original bonus rounds, and a Super Large Chracter option. The onscreen graphics take advantage of the iPad's large, high-res display — well, at least the cabinet fascia graphics do, as the in-game graphics are (happily) as pixellated as ever. The big feature of this version, however, is the split screen mode that allows two players to go literally head-to-head in a martial arts match. This mode looks great and plays like you'd hope; it's a smooth one-on-one fight experience that actually works quite well.
Karate Champ XL should be an instant buy for any fan of the game who's got an iPad and someone to go head to head with. But, even in single play the game looks better, with sharper graphics on the iPad than the scaled-up iPhone version.
A version 1.1 update of the iPhone version of Karate Champ [App Store] (which is priced 50% off at $0.99 for a limited time) is currently under review by Apple. It will allow for iPhone to iPad gameplay.