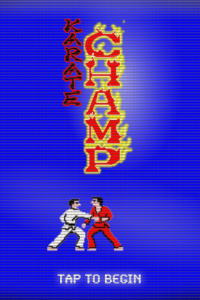 Anyone who reads Touch Arcade regularly knows that I'm a pretty hardcore retro gamer. Not so long ago you could spot me on the street sporting my European carry-all filled with mobile devices such as the GP2X, a hacked PSP, and a DS, all to enable an on-the-go retro gaming fix when I just had to have it. Happily, all that's changed since the App Store arrived. And, yes, there are now games for every sort of gamer out there for the iPhone — tens of thousands of them — and that's great news for gamers. But what's so surprising to me is just how many retro conversions and remakes have made their way to the App Store. It really is heaven for die-hard retro nuts like myself.
I'm happy to report that the latest member of the App Store's excellent retro line-up is Data East's classic arcade hit Karate Champ [App Store], which has been ported to the iPhone by Revolutionary Concepts, the studio that brought us the classic Cobra Command. And they've ported it wonderfully.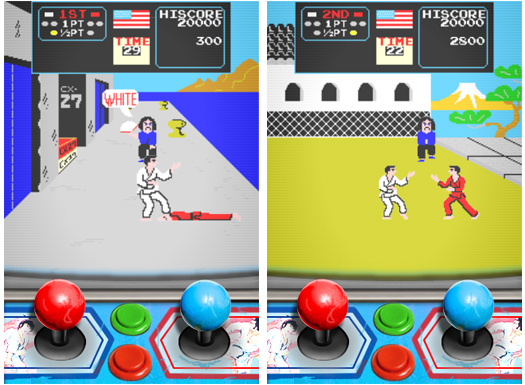 Karate Champ, which was rated one of the 10 most influential games of all time by IGN, is a 1984 arcade fighter that was one of the very first 2D, side-perspective, face-to-face fighters to hit the arcades. In Karate Champ, the player controlls a karateka with two joysticks, one for movement and one for attacks, that together allowed for a wide variety of attack combination. It is a match for points as well as a race against the clock; if both fighters are still standing when the timer runs down, he with the most points wins. It's simple by today's fighter standards, but is appealingly so to many, myself included.
Revolutionary Concepts' iPhone conversion is done superbly. The dual-stick control mechanism is handled via on-screen joysticks which, while no match for physical controls, work rather well. Enhancing the experience are a number of iPhone-specific option settings, such as display scan-lines, a "super large" character mode, two backdrop cabinet designs, and three difficulty settings. A two-player mode has been included that allows local WiFi or Bluetooth fights between iPhone, iPod touch, and iPad users.
As far as I can see, aside from the necessary control alterations for the iPhone's touch screen, Karate Champ for the iPhone is a perfect conversion. If you liked the game as a kid in the arcade, you will definitely find the iPhone title well worth the $1.99 asking price. And if you're a modern fighter fan who cares little for the retro, the simplicity of this formula might just tickle your fancy, despite the jaggies. Our readers are loving it.
App Store Link: Karate Champ, $1.99