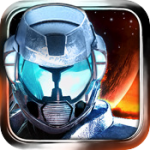 Ever since the demonstration of the iPhone 4 at the WWDC keynote, the far and away most talked about feature has been the stunning Retina Display. When the iPhone 4 finally released, some developers took the opportunity to update their existing games to harness the power of the eyeball burning high resolution. Previously, we've covered games that have added retina support including Real Racing, Flight Control, Archetype, Sword of Fargoal, Jet Car Stunts, Zen Bound 2, and a host of games from Pangea Software. Well it's time to add another to the list as Gameloft's Halo inspired first-person shooter N.O.V.A. has been given the Retina Display treatment as well, along with support for the iPhone 4's gyroscope.
N.O.V.A. wasn't a bad looking game to begin with, but with this latest update it's hard to believe that I ever thought so. Gone are the many jagged edges that are rife within the game, replaced with silky smooth graphical models that can only be possible with the four times as many pixels on the iPhone 4 display. The game literally pops of the screen now (although the voice acting remains comically terrible). I could go on about the enhanced visual clarity of N.O.V.A., but these comparison screens tell the story better than I ever could: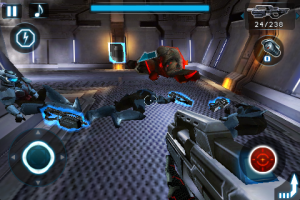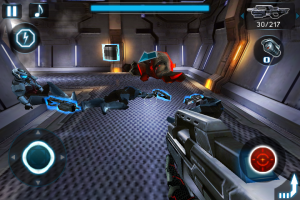 Perhaps an even more intriguing addition to N.O.V.A. is support for the iPhone 4's gyroscope. The gyroscope must be enabled when starting a new game or from the control options, and is actually a combination of screen swiping and movement. Swiping still moves your aim in an extreme manner, so you still pretty much move and turn the same throughout the game. But the gyroscope offers refined accuracy within your current view (unless you are moving your entire body around, in which case your entire view changes with you), and it works beautifully. It can be a little disorienting to get used to at first, but one you do you'll never want to play an FPS game any other way, and this is coming from someone that typically hates tilt-to-aim in FPS games. This slightly cheesy video demonstrates the new controls:
The touch and gyro combination just sings, and makes N.O.V.A. feel like a whole new experience. The new updated graphics are gorgeous, and still impress even for a seven month old game. And there's the always handy iOS4 fast app switching thrown in this update for good measure. Needless to say, if you're an iPhone 4 owner with a copy of N.O.V.A., don't hesitate to grab this latest update and play through one of the better iPhone FPS games all over again.