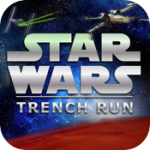 As you may recall back when Star Wars: Trench Run [$4.99] first came out back in November, we weren't too kind in our review. Basically, in the game, through a series of levels that feel a lot like different Star Wars themed shooter mini-games sewn together with clips from the movies, you re-enact the various events leading up to the original destruction of the Death Star. There wasn't much gameplay to be had in the mission mode, and arcade mode wasn't particularly compelling either.
The latest update adds three new levels and introduces four new ships: The Millennium Falcon, the Y-wing, along with both standard TIE fighters and Darth Vader's own TIE fighter. The new levels focus on flying the Millennium Falcon either attacking TIE fighters as you ferry Princess Leia back to the Rebel base or flying over the Death Star trench protecting three Y-wings from TIE fighters and turret fire. The third level also has you protecting the same Y-wings in arcade mode attempting to survive as long as possible.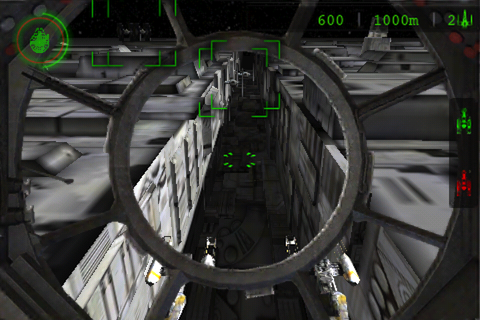 While I'm sure there are some people out there who will absolutely love the fact that they're piloting the Millennium Falcon or getting in dog fights behind the controls of Darth Vader's TIE fighter, ultimately nothing that has been added provides any more depth or variety to the gameplay. Star Wars: Trench Run still retains the mini-game feel, and like most video games based on movies, its greatest asset is the included licensed content.