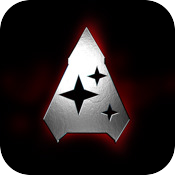 I have been looking for an excuse to post about Armada: Galactic War [App Store], after overlooking its first sizeable update amidst the chaos of WWDC. It was a game I really enjoyed, despite nit-picking on a few issues. It turns out developer Pixel Stream was listening, and have addressed each of my complaints and further added a suite of features in response to player feedback and an entirely new freemium version!
First and foremost, addressing the biggest complaint that readers had, was the introduction of an offline practice mode in version 1.2. Offline mode is still in its infancy, and though you can pick the map and your race, you are restricted to playing 1v1 vs the AI. Additional AI slots and a customizable AI difficulty would all be great to see in future updates.
This update also addressed my other issue with Armada: Galactic War — the ARMS upgrade system. In our review, we took issue with how ARMS set an insurmountable gap in advantage between veterans and newcomers. In order to address this, Pixel Stream opted to completely overhaul their ARMS system. The more powerful variants of each item were removed entirely, and though the player can still equip up to 10 items, items are automatically balanced when players are matched against each other.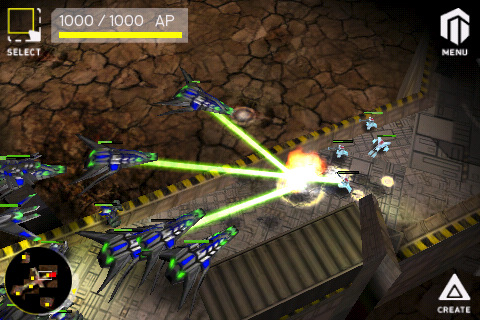 The player with the fewest upgrades sets the standard for the match at hand. If Player A has 2 items and Player B and C have 4 items, then only the first two items of each player will have effect in that game. In this way, the developers hope to have remedied the issue of power imbalance between players with access to more and better items.
Update 1.3, just released, further addresses issues noted by players since 1.2. It introduces player divisions by way of rooms; with a newbie room available to allow beginners to play against each other; and an extreme room rewarding bonus credits rewarded to the more daring, experienced players. The full change list is as follows:
Interface and Gameplay improvements
newly created units are automatically selected if mothership is selected
mech placement is easier to collect minerals
improved selection/deselection of units
Destroying a mothership will top up your resources
Each mothership destroyed counts as a win

Player matching improvements
three rooms – newbie, intermediate, extreme
only newbies can enter the newbie room
extreme room gives 2x credits
a second leaderboard for extreme battles

ARMS item improvements
lowered cost of items
items increase stats as well as decrease other stats
simplified the number of items
The developers have also released a new freemium version of Armada. This version is online only, and operates a little like Eliminate; in that you require 'fuel cells' to earn credits. These are used up as you play, and recharge automatically every two hours. Of course, In-App purchases allow you to skip that waiting process by purchasing additional cells.
That app has now hit the App Store, and whilst players can now play entirely for free (with a little patience) on the freemium version, the original paid app with offline mode has risen in price, too. So there are now a slew of options for RTS fans to get their game on; and with an app as feature rich as Armada: Galactic War, there's now no reason not to check out what has been dubbed Starcraft-lite on your iOS device.
App Store Link: Armada: Galactic War, $5.99 and Armada – Galactic War Online, Free (With In-App Recharge Purchases).